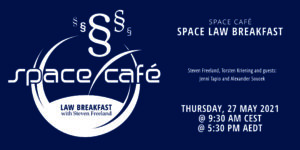 Join SpaceWatch.Global's Space Café "Law Breakfast with Steven Freeland" #03 series where global space law experts discuss the legal issues from everyday space activities.
This event will take place on 27 May 2021 at 9:30 am CEST.
Space Café "Law Breakfast with Steven Freeland" will analyse current space developments with a legal focus. It will, at the same time discuss and 'demystify' the law for everyone.
The first episodes can be seen: Episode01, Episode 02
In this next episode Host Steven Freeland, Emeritus Professor of International Law at Western Sydney University, Sydney and Professorial Fellow at Bond University, Australia and Co-Host Torsten Kriening, SpaceWatch.Global's Publisher and their invited guests will discuss a number of issues including:
Multilateralism at work – Meetings at UNCOPUOS
Space Traffic Management – including the bilateral agreement between SpaceX and NASA on collision avoidance
Join us in our discussion on current space (law) events with two exceptional experts:
Jenni Tapio, Chief Specialist at the Ministry of Economic Affairs and Employment of Finland
Alexander Soucek, Head of International Law Division at European Space Agency – ESA
Our audience will have an opportunity to ask questions.
SpaceWatch.Global is a Switzerland-based digital magazine and portal for those interested in space and the far-reaching impact of the space sector.
This Space Café"Law Breakfast with Steven Freeland" will be conducted in English. Reserve your place today.