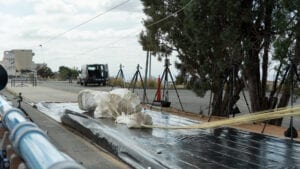 Paris, 25 May 2021. – Ready for the drop: the European Space Agency (ESA) and the Russian Roscosmos are preparing one of the two main parachutes for the ExoMars 2022 mission for its high-altitude tests in June, ESA said.
The tests, conducted with NASA/JPL's dynamic extraction test rig in California, focused on demonstrating the readiness of new equipment developed by Airborne Systems, as well as verifying changes to the parachute and bag provided by Arescosmo, ESA said.
The ESA-Roscosmos ExoMars mission, with the Rosalind Franklin rover and Kazachok surface platform contained in a descent module, requires two main parachutes to slow down the module from supersonic speed when it plunges through the martian atmosphere, the agency said.
The Airborne Systems first main parachute will now move forward for testing in its first high-altitude drop test scheduled at the start of June from Kiruna in Sweden.
All parachute system qualification activities are managed and conducted by a joint team involving ESA, Thales Alenia Space, Vorticity and Arescosmo.
The ExoMars mission will launch on a Proton-M rocket from Baikonur, Kazakhstan, in autumn 2022 and is scheduled to land on Mars in June 2023.