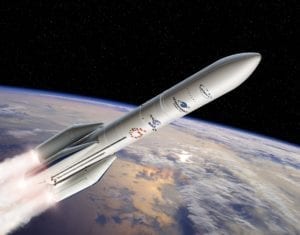 Paris, 10 May 2021. – The first Ariane 6 fairing arrived at Europe's spaceport in French Guiana to start a series of tests and prepare Europe's next generation heavy-lift launch vehicle for flight, the European Space Agency (ESA) said.
The fairing is 20 meters high and 5.4 meters in diameter and is being integrated with a mockup payload to test equipment and procedures inside the assembly building, ESA said.
The two half-shells are manufactured with a carbon-fibre composite by the Swiss Ruag.
"Fewer parts allow horizontal as well as vertical assembly of the closed fairing and the launch vehicle, which is particularly important for Ariane 6", ESA said.