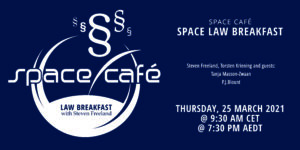 Join SpaceWatch.Global's new Space Café "Law Breakfast with Steven Freeland" #02 series where global space law experts discuss the legal issues from everyday space activities.
This event will take place on 25 March 2021 at 9:30 am CET.
Space Café "Law Breakfast with Steven Freeland" will analyze current space developments with a legal focus. It will, at the same time discuss and 'demystify' the law for everyone.
The first episode can be seen here.In this next episode Host Steven Freeland, Emeritus Professor of International Law at Western Sydney University, Sydney, Australia, and Co-Host Torsten Kriening, SpaceWatch.Global's Publisher and their invited guests will discuss a number of issues including:
Commercial space tourism / human activities in space
Dubai's planned 'Space Court'
'Dark Skies' litigation against Starlink
Join us in our discussion on current space (law) events with two exceptional experts:
Our audience will have an opportunity to ask questions.
SpaceWatch.Global is a Switzerland-based digital magazine and portal for those interested in space and the far-reaching impact of the space sector.
This Space Café"Law Breakfast with Steven Freeland" will be conducted in English. Reserve your place today.