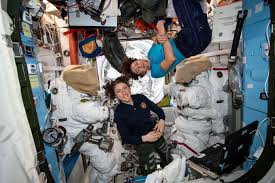 Berlin, 22 September 2020. – The United Arab Emirates (UAE) continues to foster its international network and cooperates with NASA to train four Emirati astronauts, the news agency WAM reported on 21 September.
"The Mohammed Bin Rashid Space Centre (MBRSC) and the National Aeronautics and Space Administration (NASA) today announced that they have signed a strategic agreement to train Emirati astronauts in NASA," the report said. The training program will be conducted at NASA's Johnson Space Center.
Under the program, the astronauts will be trained to manage various missions on the International Space Station, including simulated spacewalks and long duration stay, along with training in major systems, robotics, extravehicular activity, T-38 jet courses, water and land survival, Russian language skills and theoretical training, the report said.
"The global space sector is based on international cooperation fostered by establishing alliances and building bridges of knowledge with leading international space organisations and agencies," Hamad Obaid Al Mansoori, Chairman of the Mohammed Bin Rashid Space Centre said. "The strategic partnership with NASA, a space pioneer for more than 60 years, supports the strategy of the UAE's National Space Programme."