by Thys Cronje

Over the next decade, Earth Observation (EO) satellites will stop streaming simple image data to the earth. Instead, the instruments onboard the EO satellites will tell us more detailed information about what is happening below. In addition, these satellites will be able to take control of their operations to allow for the execution of complex tasks.
The statement above may seem a bit drastic, but I genuinely believe that it is not too far off. It is not as if the transmittance of EO data from satellites will stop, but the modus operandi must change. To begin with, the number of EO instruments are growing fast, and the amount of data they generate are increasing exponentially. These trends are challenging the way we think.
EO data supply chains are still very much linear.
Satellites stream raw EO data through a network of ground stations, to data centers and processing units where smart systems transform it into information. Furthermore, to stay relevant in the big-data supply chain, EO data must be readily fused with other data sources. As a result, we are in the process of creating an enormous data bottleneck. The fact is, it won't help much to solve the data dilemma downstream. We need to tackle it at the source.
The autonomy of EO instruments will increase.
We will see operators tasking satellites to detect changes in infrastructure, land-use, and economic activities directly from space. The payloads will be able to identify structures, recognize specific objects, add situational context to the information, and quantify the current situation. Then, the satellites will relay this knowledge to the correct decision-makers on earth in near-real-time. This knowledge will allow investors, corporations, governments, and the man in the street to make timely informed decisions.
The composition of payloads will change significantly.
Previously, EO mission primes designed satellite around a single instrument or payload tasked to gather data of a specific kind. In some cases, it may even be a constellation of satellites using optical, radar, or RF data. The goal of these missions is to capture as much information as possible over the lifetime of the spacecraft. In most cases, applications built on the data are developed as the mission proceed. To get to the level where one can contextualize the situation surrounding the information, you will need to fuse data from various onboard sources, and have access to powerful computing solutions.
Space operations need to be reinvented.
We all know about the disruptions in the launcher industry. The payload and space segment is following suit, and innovative entrepreneurs are setting the pace. However, the space-operation side of things is lagging. Large constellations of satellites, each with multiple instruments, tasked to provide more in-depth insight at a very high frequency, will require autonomous spacecraft operations. The traditional way we operate large EO constellations will not do.
We require non-linear space operations.
In the new paradigm, EO satellites will be tasked by various customers to assist with multiple decisions. For this reason, the traditional way of thinking about and operating EO constellations won't work. We need to imagine an intelligent network of satellites. A system capable of dividing complex tasks and sharing situational intelligence.
Bottom Line: If you find a piece of a puzzle and are not able to see the full picture, it has limited value to you. A portion of information or data may bring interest, and you may even believe that you can see the whole truth. In reality, you will only see the light after bringing different perspectives together.
The concepts explained above are not (totally) new. We are all aware of quite a few analytics platforms using artificial intelligence to accelerate the use of Earth Observation data. To name just a few:
Descartes Labs is building what they present as the world's largest and most diverse data refinery – to bring together all of the data, all of the time. Their supercomputer in the cloud and modelling platform for complex global systems, predict supply and demand factors to give their customers a unique decision advantage so they can move with speed, efficiency, and certainty.
Orbital Insight is a geospatial analytics company that helps organizations understand what's happening on and to the Earth. Orbital Insight uses AI to answer their questions about supply chains, global commodities, geopolitical events, demographics and national security using multiple sources of geospatial data—including satellite images, mobile location, connected cars and other IoT data.
Planet is a leading provider of global, near-daily satellite imagery data and insights. Planet is driven by a mission to image all of Earth's landmass every day and make global change visible, accessible and actionable. Decision-makers in business, government, and within organizations can use Planet's data and machine learning-powered analytics to develop new technologies, drive revenue, power research, and make informed, timely decisions to solve our world's toughest challenges.
SpaceKnow empowers decision-makers with ultra-large-scale planetary analysis. They use a proprietary, AI-powered analytics engine, combined with what is presented as the world's most comprehensive collection of earth observation imagery.
Sen's vision is to democratize space using video to inform, educate, inspire, and benefit all humanity. Sen's mission is to stream real-time videos from space to billions of people, gathering news and information about Earth and space, and making it universally accessible.
Simera Sense is building next-generation optical payloads for smaller satellites. The information and knowledge generated by these payloads will empower global intelligence, and enable the drive toward autonomous systems.
ENABLE is the world's first end-to-end cloud platform for space operations, allowing for smooth, scalable and cost-efficient management of space assets. Featuring all the required capabilities to design, scale, operate and optimize your mission.
Earthcube is a European New Space company offering monitoring solutions based on an automated analysis of geospatial information. By combining state-of-the-art AI technics both in machine learning and computer vision, Earthcube enables its customers to access more precise and better information, thus ensuring faster and less costly interventions.
Mayday.ai is a centralized and artificial intelligence-based platform providing real-time and near real-time disaster & incident information services. They provide early warning and two-way communication services within the same ecosystem by leveraging Satellite Imagery (Geostationary, Polar), Camera Imagery, as well as Social Media sentiment analysis.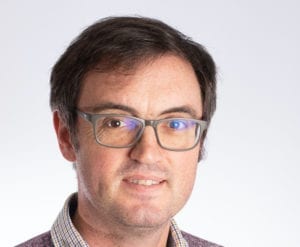 Thys Cronje is the Chief Commercial Officer at Simera Sense, a start-up producing optical payloads for smaller satellites. He started his career as an electronic engineer developing Earth Observation payloads for clients across the globe. He later shifted his focus to product leadership and business development. Thys is also the co-founder of several start-ups in the field of mobile, Artificial Intelligence and IoT technologies. 
This article was originally published on LinkedIn. You can read the original here.