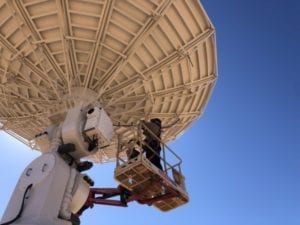 Indigenous Business Australia (IBA) provided the funding to construct two state-of-the-art commercial satellite ground stations in Alice Springs. The facility is the first development of its kind on Aboriginal owned land and transforms Australia's capability in earth observation.
Built, project-managed and owned by Indigenous companies – the Centre for Appropriate Technology (CfAT) and its subsidiaries Ekistica and CfAT Satellite Enterprises, as well as Ingerreke Commercial who laid the concrete foundations in December. The facility forms part of a global network of ground stations operated by Viasat called Real Time Earth.
This new infrastructure has the potential to reduce the latency for high-resolution earth observation imagery down from hours or days, to just minutes. The result will be to enhance Australia's capability in disaster management (such as cyclones and bushfires), environmental monitoring, border protection, and search and rescue, as well as strategic uses such as monitoring the economic impacts of pandemics like COVID-19 from space.
CfAT CEO Peter Renehan said, 'This facility brings together our mission of engagement and people, innovation and excellence – and puts Aboriginal people at the forefront of Australia's growing space sector. While many have been locked down from COVID-19, our build has been full speed ahead with an Aboriginal-owned project management team and support crew that assembled the antennas."
"There is currently limited supply of suitable earth observation ground stations in Australia. Here in Alice Springs we are strategically located to take advantage of this fast-growing market. The site is so perfectly located that we will be able to downlink imagery across the whole of Australia's land and waters. We are very excited about the future of this technology which we know has the potential to benefit many of our communities, like our Indigenous rangers who look after land and sea country and can use high resolution imagery from space to do their jobs. CfAT have also been awarded the facilities maintenance contract by Viasat, which will generate on-going Indigenous employment and training opportunities for our community."
IBA Chairperson Eddie Fry emphasized the importance of this opportunity for both the Australian space industry and the Indigenous community. "Aboriginal and Torres Strait Islander people own or control significant areas of land in remote areas where there is limited economic potential. This first of its kind development on Aboriginal land gives the community both economic and social returns. The technology has many commercial applications, such as for remote asset management, agriculture, carbon abatement, insurance, finance, and mining. Strongly aligned with the priorities for the Australian Space Agency, this investment puts CfAT on the map as a commercial technology innovation hub."
"Not only will this facility generate commercial returns for Indigenous Australians, it will create wider industry opportunities for the Northern Territory. CfAT will invest in training Aboriginal people in maintaining the facility and build its capacity for bringing innovative technology-based programs to Aboriginal people in the region."
Minister for Indigenous Australians Ken Wyatt AM MP said the launch of this project demonstrates how Aboriginal and Torres Strait Islander people could continue leading roles in our nation's innovation, as they have done for more than 60,000 years. "Indigenous Australians hold a powerful economic force through their connections with land, culture and community," Minister Wyatt said. "This exciting project is a prime example of the power of country to help deliver commercial returns through technology, employment and career opportunities.'
For more information visit www.iba.gov.au