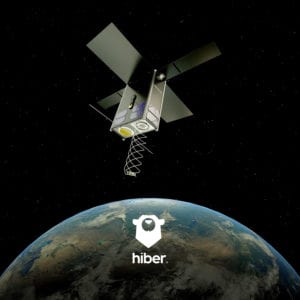 Dutch space-based Internet of Things (IoT) startup Hiber have announced that they will receive an undisclosed share of a €278 million European Innovation Council Accelerator grant as well as direct equity investment. As a result of this new funding, Hiber have appointed three new advisory board members in order to help manage the company's growth and expansion.
Hiber is building a space-based IoT constellation to provide coverage of remote areas and developing countries with already poor infrastructure. In 2019 the company was awarded a Dutch National Icon status that enables it to receive direct support and advice for three years from the Dutch State Secretary for Economic Affairs and Climate Policy, Mona Keijzer. To date, Hiber has raised a total of €7.1 million over five funding rounds.
To help manage Hiber's growth and expansion, the company has also announced the appointment of three new advisory board members. These individuals are George Coelho, co-founder of Balderton Capital and advisor to Finch Capital; Drew Caplan, a prominent telecommunications executive; and Lt. Gen. Lawrence P. Farrell, Jr., U.S. Air Force (retired), previously president and CEO of the National Defense Industrial Association in the United States.
Commenting on his appointment to the Hiber advisory board George Coelho said, "Hiber fills a missing need in the world of IoT. It provides a low-power ubiquitous solution worldwide for industrial players of all kinds to use. No other organisation in this market has targeted this particular area nor has deployed such a valuable solution. I am excited to join this innovative company as an advisor as they continue in their journey to connect all corners of the globe with Hiberband."
Drew Caplan said, "Hiber offers not only an interesting technology play but, more importantly, a vision of how tech can be used in creative and cost-effective ways to address the most pressing challenges of our time. My experience in building and running large networks — and the teams needed to support them — will be utilised to advise Hiber on how to scale for success."
Lt. Gen. Farrell added, "Hiber is uniquely positioned to serve a market that has, as yet, been untapped. Its operational planning and technology are well-advanced and well ahead of potential entrants to this market. My military background has not only provided me with extensive experience and an understanding of space, but also its potential, and I am excited to work with Hiber to continue to harness the power of space."
Founded in 2016, Hiber employs over 50 individuals and aims to build and launch a IoT constellation of 48 satellites. In 2019 Hiber announced the creation of its IoT network called Hiberband, and already has two satellites in low-Earth orbit (LEO) and expects another two satellites to be launched this year from India.