2020 is expected to be a landmark year for Virgin Orbit as its LauncherOne rocket will have its maiden launch from the Cosmic Girl modified Boeing 747. During the 2019 Dubai Airshow in November, SpaceWatch.Global's Anna Hazlett met with Dr. Michaelyn Thomas, Head of Affordability at Virgin Orbit, to learn more about their exciting projects, their big year ahead, and Michaelyn's role in empowering women in the space sector.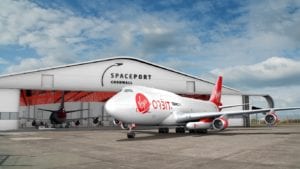 As the Head of Affordability at Virgin Orbit, can you define firstly what 'affordability' means to you in the context of launch services and who your target customer is? 
Virgin Orbit is on a mission to democratize and open space for everyone by providing affordable, dedicated, and responsive launch services for small satellite customers. As the Head of Affordability, I am laser-focused on the recurring cost of our LauncherOne programme, and I partner cross-functionally across all teams to find innovative ways to lower all costs.
Virgin Orbit is the premier affordable small satellite launch service provider, and with our LauncherOne system we are able to provide agile launch services to enhance life on Earth, give access to space, and boost the small satellite revolution for new customers.
We have an incredibly broad variety of customers signed, with a manifest that includes both traditional space players like NASA and the U.S. Air Force as well as new entrants from around the world. Primarily, our customers are commercial companies—communications companies like OneWeb, Earth observation companies like GOMSpace and Spire, aggregators like EXOLAUNCH and Spaceflight, and more.
Because of the unique mobility of our system, we're also discovering we've got tremendous appeal to customers in other nations, many of whom want us to bring the launch system to their satellite, rather than the other way around.
Illustrate some of the most interesting/unique ways Virgin Orbit is making launch services more affordable for these customers?
At Virgin Orbit, we have been 3D printing key parts of our rocket engines for some time. Early on, we recognized 3D printing as a great enabler and an effective way to reduce schedule and lower cost. We have partnered with NASA's Marshall Space Flight Center (MSFC), and our collaborative goal is to study the use of 3D printing to build multimetallic combustion chambers. The benefit of developing multimetallic parts is that you can take advantage of their strength and conductivity to create a higher performing end product. We use our hybrid additive-subtractive manufacturing machine to help us accomplish this quicker. An extensive hot-fire test campaign proved that the combustion chamber we tested together with NASA MSFC could hold up under realistic operational conditions, and it matched the performance of a traditionally manufactured unit.
Another way Virgin Orbit is actively reducing cost is through our very own Cosmic Girl, a modified Boeing 747 that serves as our mobile launch pad. With this proven technology, we are able to launch from anywhere around the globe. This eliminates the traditional costs of maintaining a ground launch facility and provides us with the flexibility of launching from multiple places to reach many orbits.
Could you describe the impact affordable launch services has back on Earth? Which examples you find have a significant impact? 
Access to space used to be very expensive and formerly catered to only government customers. With more commercial applications on the rise, space policy must be agile and adapt to the changing space landscape. Virgin Orbit is a game-changer on the innovation front by offering the most flexible and affordable launch service in the market today. Because we're not limited to a handful of ground-based pads, Virgin Orbit can launch from nearly anywhere in the world to any orbit our customers need.
Virgin Orbit's affordable launch services will:
Enhance life on Earth by connecting rural communities, monitoring global climate change, tracking ships and planes in remote areas of the ocean, and more
Break down barriers by providing access to space. We are turning dreams into reality for students, budding entrepreneurs, and everyone else who previously lacked the resources and support to reach space
Boost the small satellite revolution by giving satellite operators more control over their launch schedules. Dedicated launch for small satellite operators is key because rideshares alone are not enough to provide the level of service and flexibility small satellites demand
Space betters life on Earth for all of us by improving our global transportation systems, our ability to predict natural disasters, and our ability to connect with people around the globe through internet networks for improved health, occupational opportunities, and education — all through innovative satellite technology and affordable and flexible launch services.
If you could send your own experiment that hasn't been done before into space, what would it be?
"Pet Sat." Today, most pet owners in the United States use the safe method of microchipping their pets (dogs and cats) in the event their pet is lost or stolen. The microchip contains a radio-frequency identification number, and when scanned, the pet owner's information is retrieved. While the radio-frequency identification can lead to your pet's safe return, the microchip has to be manually scanned by a human. I think it'd be neat to use satellite technology to locate your pet, especially if a natural disaster occurred. Hence, "Pet Sat"!
Could you tell us more about the status of Virgin Orbit missions, progress, and timeline at this stage, and the plan for spaceports in Europe and globally? 
Virgin Orbit is actively gearing up for our first orbital launch demonstration! We are making plans for spaceports in Guam and the United Kingdom, and we have a full manifest that takes us through 2021.
Describe the best thing about working at Virgin Orbit. 
Everything about Virgin Orbit is absolutely fun. I created some amazing memories and life-long professional relationships. I wake up every morning thanking my lucky stars because I never thought I would be able to work my dream executive management job in my early thirties. Our team is extremely dedicated and works very hard to achieve important program milestones, and we also know how to have fun with each other. The camaraderie we share as a Virgin Orbit team is so special and unique that it's impossible not to love what we do. A big thanks to our CEO, Dan Hart, for creating a culture of togetherness, thoughtfulness, and kindness.
Could you describe in your own words, and from your own experience, why an aspiring ambitious woman (with the sector interest), would apply to join the team at Virgin Orbit?
Our founder, Sir Richard Branson, and our incredible Virgin Orbit leadership team have made it clear that diversity and inclusivity is good business. On International Women's Day in 2018, I had the honor and the privilege to deliver a keynote address to our Virgin Orbit workforce on the importance of women advancement in the aerospace industry. This talk was rooted in my doctoral research, which took me years to develop. I discussed barriers women tend to face in the aerospace industry and strategies that enable advancement.
After my presentation, a group of dedicated and inspirational employees engaged me and kept the conversation going. Over the course of several months, we brainstormed many ways to get a company-recognized group going, and Teammates for Women Empowerment was formed with the dedicated support of our CEO and senior leadership staff. I have the pleasure of serving as the executive sponsor of this wonderful and important group.
Teammates for Women Empowerment is an inclusive, employee-led group that promotes positive change through a shared vision of women empowerment in the work place. Teammates for Women Empowerment has a robust operating rhythm, managed by a small group of dedicated employees in efforts to promote professional growth and development, inclusion, and overall employee happiness for all. The group also aims to create a trusted environment for employees to practice and learn leadership skills, as well as share experiences, ideas, and strategies that enable career success and professional development in the aerospace industry. It's about identifying and breaking down barriers through collaboration and education.
Ultimately, Virgin Orbit listens and cares about people, and is truly a great environment for all walks of life.
Dr. Michaelyn Thomas is the Head of Affordability at Virgin Orbit in Long Beach, California. It is her job to make rocket science affordable! Virgin Orbit is on a mission to democratize and open space for everyone by providing affordable, dedicated, and responsive launch services for small satellites. With more than 13 years in the aerospace industry, her unique aerospace leadership roles have spanned across finance and program management for government and commercial space programs.
Dr. Thomas holds a Bachelor of Arts degree in Political Science with a Minor degree in Russian language, a Master of Business Administration degree, and a Doctorate degree in Organizational Leadership. Her dissertation is entitled, Exploring the Advancement of Women in Science, Technology, Engineering, and Mathematics (STEM) Executive Management Positions in the Aerospace Industry: Strategies Identified by Women that Enable Success. Her most recent publication, "Empowering Women to take on STEM Leadership Positions within the Aerospace Industry," appeared in the November 2018 issue of STEM for Women Magazine.
SpaceWatch.Global thanks Dr. Michaelyn Thomas of Virgin Orbit for the interview.