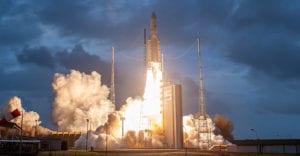 Arianespace opened its 2020 launch activity with a dual-satellite Ariane 5 mission from French Guiana that successfully placed EUTELSAT KONNECT and GSAT-30 into geostationary transfer orbit on 16 January 2020.
Conducted from the Spaceport's ELA-3 launch site, today's mission delivered an estimated payload lift performance of 7,888 kg.
EUTELSAT KONNECT was released first in the flight sequence, separating from the ArianeGroup-built Ariane 5 at 27 minutes after liftoff, followed 11 minutes later by GSAT-30.
The launch success – designated Flight VA251 – continued long relationships of trust between Arianespace and the mission's customers: Eutelsat and the Indian Space Research Organization (ISRO).
"For the first Ariane 5 launch of the year, our heavyweight vehicle has once more performed flawlessly," said Arianespace CEO Stéphane Israël, who provided his post-flight comments from the Spaceport's mission control center. "Congratulations to all!"
Bridging the Digital Divide With EUTELSAT KONNECT
EUTELSAT KONNECT – which was produced by Thales Alenia Space – is a new-generation high-throughput satellite that will help bridge the digital divide by bringing broadband Internet across 40 countries in Africa and 15 countries across Europe. In Africa, EUTELSAT KONNECT also will – through the establishment of public Wi-Fi terminals – share internet access between several users, marketed in the form of coupons that can be paid via mobile phone.
Featuring all-electric propulsion and configured for operation in Ka-band, EUTELSAT KONNECT is the first satellite to use Thales Alenia Space's Spacebus NEO platform, developed under the Neosat Partnership Project conducted by the European and French space agencies (ESA and CNES). It weighed an estimated 3,619 kg. at liftoff.
EUTELSAT KONNECT is the 34th Eutelsat satellite launched by Arianespace since its first mission for this operator. It also is the 163rd Thales Alenia Space-produced satellite orbited by the company to date.
Speaking at the Spaceport, Yohann Leroy, Eutelsat's Deputy CEO and Chief Technical Officer, underscored the long relationship of his company with Arianespace. "We've been working together since almost the very beginning of Eutelsat, starting with the launch of EUTELSAT-1 F-1 in 1983, and it is a pleasure to be able to celebrate yet another success," Leroy added. "Tonight's success for Ariane is the first of a new decade that for sure will see many exciting new developments for the space industry…and probably as many new opportunities for Eutelsat and Arianespace."
Lofting GSAT-30 for India Telecommunications
GSAT-30 was produced by the Indian Space Research Organization (ISRO) using an I-3K platform, and is to provide high-quality television, telecommunications and broadcasting services. It had an estimated mass of 3,357 kg. at liftoff and will ensure continuity of service for India's INSAT 4A, positioned at 83 deg. East longitude.
"This was an excellent start of 2020 with an excellent launch…using Ariane 5 – the most reliable launcher," stated P. Kunhikrishnan, the Director of ISRO's U.R. Rao Satellite Centre, during his speech at the Spaceport. "On behalf of the ISRO Chairman, I want to thank Arianespace for a wonderful and professional job – both in the preflight preparations and during the launch."
By operating GSAT-30, ISRO will – once again – use space to help bridge the digital divide in the Indian subcontinent as part of its ambitious space program. These objectives are to develop India by focusing on all types of space applications, including navigation, Earth observation, telecommunications and broadcasts of educational programs, while pursuing science research and planetary exploration.
GSAT-30 was the 24th ISRO satellite orbited by Ariane-series launchers, tracing the relationship back to India's APPLE small experimental communications spacecraft, lofted in 1981 by an Ariane 1 version.
Targeting a Record Mission Pace
The 16 January 2020 launch success kicks off Arianespace's busy launch schedule in 2020, which targets a record mission count – with up to 12 opportunities identified from Europe's Spaceport in French Guiana using Ariane 5, Soyuz or Vega; along with the maiden flights of Ariane 6 and Vega C; plus eight more from the cosmodromes at Baikonur and Vostochny.
Arianespace's next launch – Soyuz Flight ST27, scheduled for early February – will orbit OneWeb constellation satellites from Baikonur. This is to be followed by another February mission – Ariane 5's Flight VA252 from French Guiana – carrying JCSAT-17 for SKY Perfect JSAT and GEOKOMPSAT 2B for the Korea Aerospace Research Institute (KARI).